For years, the companies of maintenance of swimming pool and spa, and the owners have been washed in acid.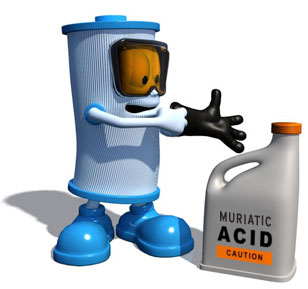 However, the elements of the cartridge do not have the protective D. E. The grids can be damaged permanently by the acid. As a general rule, wash in acid only if necessary, or not, and never without thoroughly cleaning the element with a degreaser cartridge first.

After you have thoroughly cleaned the cartridge with a degreasing agent, flush the cartridge with a hose to remove all traces of soap, etc, now Apply several drops of acid directly on a small area of the filter. If bubbles occur, this indicates a build-up of calcium or minerals, and that you should do to soaking in a bath of mild acid (see the cleaning Instructions Unicel for more details). If no bubbles are observed, your cartridge may not require washing with an acid product.